About Elevate Festival
Founded in 2017 as a not-for-profit organization, Elevate produced its inaugural tech and innovation festival. This year, the reimagined festival unites icons and innovators at the intersection of arts and technology. Hosting the festival in Toronto, once again, Elevate will shine a light on the tech icons who dream big, the innovative minds who take great risks, and the fearless creatives who envision a future that includes us all.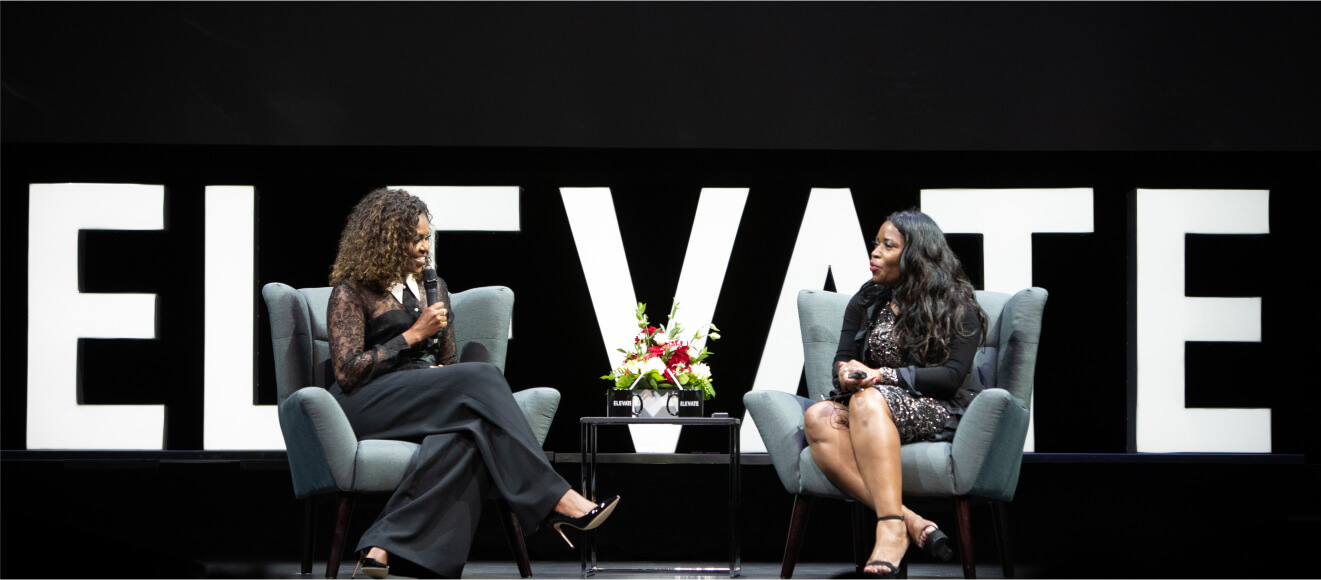 Experience Toronto
Fall in step with Toronto, ranked one of North America's most innovative tech hubs, as you tune in to events and programming you care about at Elevate Festival 2022. From the Design Exchange to Meridian Hall and over to St. Lawrence Centre for Arts, the Festival's small-scale footprint will keep guests connected and engaged in the heart of the city.
Frequently Asked Questions
---
Q: What is Elevate Festival?
A:
Elevate Festival 2022 is the largest festival in Canada at the intersection of arts + tech. Featuring world-class speakers, opportunities to grow your business, a lounge for women in tech, an NFT Art Gallery, the Block Party, featuring emerging musical acts, an open house zone for tech talent, and a space to find your people.
Q: Where is Elevate located?
A:
Elevate Festival will be taking place across multiple venues throughout the city. This includes Meridian Hall, St. Lawrence Centre for Arts, Design Exchange, and a space along Front Street, from Yonge to Church, for our first-ever Block Party.
Q: When is the 2022 Festival taking place?
A:
The festival will run from September 20 – 22, 2022.
Q: Is Elevate an all ages event?
A:
Yes, Elevate is an all-ages event. However, all attendees under 18 years of age must be accompanied by an adult chaperone or have guardian permission to attend the festival and all related events.
Q: How can I volunteer?
A:
Elevate is looking for you to join our team of volunteers. We have a variety of exciting opportunities that you can choose from. You can see our list of opportunities and register for shifts at https://timecounts.org/elevate.
Q: I have accessibility requirements, who can I reach out to?
A:
Elevate is committed to making the festival accessible and welcoming for everyone. Please let us know of any accessibility accommodation(s) you need to enjoy your festival experience by emailing us at festival@elevate.ca. While we will do our very best to accommodate all requests, any requests made after August 20, 2022 may be more difficult to accommodate due to time constraints.
Q: Where can I find Elevate on social media?
Q: How do I reach someone from the Elevate team?
Q: How do I access the Elevate app?
A:
Download the Elevate Festival app for iOS or Android. You'll need it to pick up your badge. Once you've downloaded the app, reset your password on the login page using the same email you registered with. You will be emailed a direct link to update your password. Follow the prompts to the Login Screen to reset your password using the email you registered with.
You will get an email with a link to reset your password within a few minutes with a confirmation that your password has been updated. Return to the login screen and enter your login details. Upon logging in, you will no longer need to go through the login process again unless you delete and re-download the app.
Q: What is available on the Elevate app?
A:
Everything you need to know about Elevate Festival lives in the app. Use to app to start curating your festival by:
Browsing sessions and plotting your schedule in a few easy clicks
Growing your professional network and messaging fellow attendees and speakers
Rating your favourite sessions and taking notes directly in the app to review later
Watching our Main Stage Live Stream. Don't miss any speakers, highlights, or special performances on the Main Stage, Think 2030 – you can catch it all directly on the app.
Q: Where will I be able to pick up my badge and wristband?
A:
Badge pickup will be held at Meridian Hall (1 Front St E) and the Design Exchange (234 Bay St).
Here's where and when to pick up your badge and wristband: 
Meridian Hall: September 20, 12:00 – 9:00 p.m. 
Meridian Hall and the Design Exchange: September 21 & 22, 8:00 a.m. – 6:00 p.m.
Q: Can I purchase a single-day pass?
A:
We do not offer single-day passes at this time.
Q: Can I refund my pass?
A:
Elevate Festival passes are non-refundable, but we'd be happy to help you transfer your pass to a friend or colleague.
If you wish to change the name on your Elevate Festival pass, you will be able to do free of charge until September 16, 2022 at 5:00 p.m. (EST). You will be unable to transfer it after that date.
Q: Do I need to register for any events within the festival?
A:
You do not need to register for any of our events to attend them during the festival. Our various ticket options include access to different events and opportunities, for example, with the Startup pass, you will have the opportunity to book 1:1 meetings with investors, and Investor passholders have exclusive access to the Investor Zone during the festival. Seating is on a first come first served basis.
Q: How can I make a change to the personal information on my ticket?
A:
Any changes to your personal information must be done through the Tito platform, where you purchased your ticket. Changes to personal information can not be made through the Elevate app. Should you have any questions, reach out to festival@elevate.ca.
Q: Can you help me get a visa to attend Festival?
A:
Elevate cannot support with visa requests to attend festival. It is your sole responsibility to fulfill any visa requirements.
Elevate is not liable or responsible for any costs incurred by you attending the festival, which includes but is not limited to travel, accommodation, hospitality, and any other expenses. You are solely responsible for your own travel, accommodation, hospitality, and any other expenses required for you to attend the festival.
Q: I lost my badge/wristband. What do I do?
A:
Wristband replacements can be purchased here through an online payment. Please note cash payments are not accepted and the purchase must be made online at the above link. Please visit the check-in desk with your proof of purchase and a member of our team will provide you with a replacement.
Q: Is there an event schedule available?
A:
A full schedule of events can be found on Elevate App. Here you will be able to create your own personalized schedule.
Q: Who are this year's speakers?
A:
We are proud to welcome some of the world's most iconic, influential, and innovative movers and shakers to the stage. This year's lineup includes Venus Williams, Chris Hadfield, Andre De Grasse, Krista Kim, and more! Our full list of speakers can be found here.
Q: What is the Block Party?
A:
The Block Party is the festival's most exciting social event! Over 10,000 guests will take to Front St to experience this multi-night event that features musical performances, entertainment, art, food & drinks, rides and more. Check out our lineup of headliners and performers set to hit the stage over three nights!
Q: What food vendors will be available on site?
A:
Food Trucks will open at 4:00pm on Tuesday and 10:00am Wednesday and Thursday. Our Food Trucks are:
Get Your Own Tots
Rick's Good Eats
Slow Jams
Nom Nom Nom
Heirloom Toronto
My Side Car Coffee
Pronto Pasta
Q: What is the NFT Art Gallery?
A:
The NFT Art gallery will shine a spotlight on underrepresented creators and curators during Elevate Festival. It will be free for Elevate Festival passholders for the duration of the festival. The space will then be available for private bookings and open to the public till October 16. Visit the NFT Art Gallery page for more information.