Startup Hub at Elevate Festival 2022
Elevate Festival 2022 facilitated an opportunity for you to build your community, pitch your business, gain brand exposure, and connect with Canada's top investors.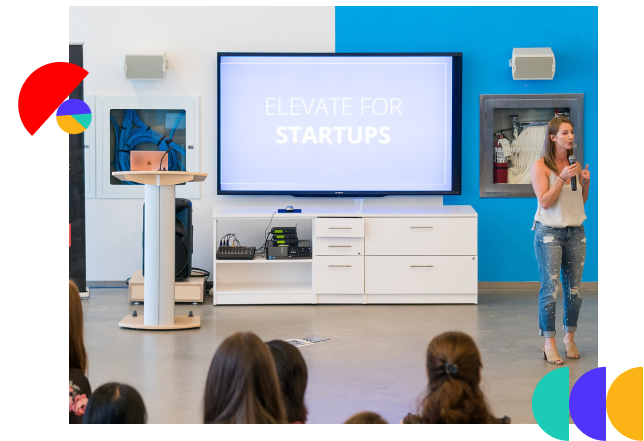 Startups Came Together at Elevate Festival 2022
Community achieved! Elevate Festival 2022 was able to unite startup founders and entrepreneurs who are leading the pack in Canada's booming tech and innovation sector. At Elevate Festival 2022, startups had the chance to connect with fellow founders, book 1:1 meetings with investors and VCs, experience the highlights of festival, gain brand exposure, and showcase their business with a winning pitch. This was a chance to get a leg up! If you're an ecommerce startup with an impact-driven product or service, take your business to the next level with Elevate's fully-funded eCommerce North accelerator program.
Perks of the Startup Pass
Pitch your business, network with other startups, meet with some of Canada's top investors, and more! Here's why you should get a Startup Pass:

Full Access to Elevate Festival
Visit the NFT Art Gallery, enjoy access to the Block Party, join a Masterclass or be inspired by over 10 content tracks to keep you in the know on tech and innovation.

Pitch your Business
Startups will have the ability to apply to be spotlighted in Elevate Festival's ElevateR pitch competition. More details on this coming soon.

Gain exposure
Build brand awareness across Elevate's activations within Canada's innovation ecosystem and at Toronto's only arts and tech festival.

Access to investors
Get connected to investors in structured 1:1 meetings. You can meet up to 6 investors. (this is based on investor opt-in).

Network
Meet like-minded innovators solving important problems in their sectors.
Eligibility criteria for Startups who want to apply for 1:1 investor meetings
Fundraising
You must be (1) Fundraising or (2) Preparing to raise funds within the next 6 - 12 months
Growth
Your company must have been generating revenue for at least 12 months prior to your application
Commitment
You and your team must be working full time on your startup
How to apply for 1:1 meetings with investors
After you purchase your pass, you will receive an email with an application form