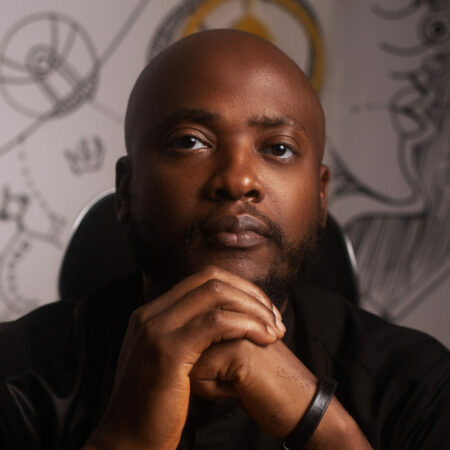 Chuma Anagbado
Visual Artist, Storyteller, Designer, Director, Interior Designer
Chuma is a multidisciplinary artist & designer working at the intersection of identity, materiality, technology, language, symbolism and aesthetics. In his societally reformative work, Chuma continually innovates ways of using both material and non-material aspects of Igbo culture in designing new structures, narratives and representations to foster a strong sense of identity. He uses Igbo uli motifs, idioms, symbols, folklore, functionality, objects, language and meaning, fused with modern technology in creating art, furniture, spaces, experiences and enterprise. As an avid entrepreneur, Chuma has co-founded Aziza Design (Nigeria's 1st multidisciplinary design firm), Mbari Uno (A social enterprise focused on human capacity development), NaijaDAO (The Nigeria NFT Community), MetaVAS (A VR real estate bringing afrocentric experiences to the metaverse) and Lizaad (A pattern art brand offering furniture & lifestyle products). He is continuously building and managing creative communities. Chuma has featured in many traditional & digital (NFT) solo and group exhibitions, some of which he curated. He teaches freelance online and offline, with small groups and large audiences, across the globe focusing on African storytelling as a context for art and design practice.
This artist has their NFT for sale. Please read more about how to purchase NFTs on different platforms here.
We understand that this process may be overwhelming if you're completely new to the NFT space, but that's why we're here to help guide you. Please sign up for an info session to learn more about NFTs.