Volunteer with Us
Join the Elevate Festival Volunteer Team to be part of the changemaking community that is shining a light on Canada's tech & innovation ecosystem!
Join Now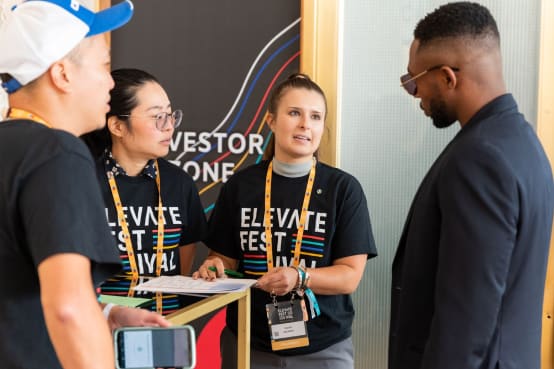 A Canadian non-profit, Elevate was founded in 2017 when it organized its inaugural festival with 95 partners in under 90 days. Today, it has become the world's fastest-growing tech festival, having hosted thought leaders like First Lady Michele Obama, astronaut Chris Hatfield, tennis champ & entrepreneur Venus Williams, and conservationist Dr. Jane Goodall, to name a few. In 2022, the festival gathered the world's tech icons, innovators, and creatives in Toronto with the help of 350+ volunteers, and we couldn't have done it without each and every one of them! Elevate Festival returns to Toronto to spotlight the best-in-show of innovation and tech from September 26-28, 2023 and we are looking for volunteers who match our passion for tech, innovation, and social impact to join us on this journey!
Top 6 Reasons To Volunteer With Us
To sweeten the pot, here are some of the top benefits volunteers appreciate the most when they volunteer with Elevate:
---

Opportunities to network with like-minded volunteers

Perks like attending and learning from Festival Programming, including topics like AI, the metaverse, sustainability, future of work, and more!

A Letter of Recognition for volunteer hours (upon request)

2 free tickets to Elevate Festival (one for you and one for a friend)

A FREE t-shirt, gift and Raffle prizes
An invite to the VAACT Awards Ceremony to celebrate YOU, with opportunities to win prizes for your dedication and hard work!
Volunteer Award For Arts And Culture Toronto
We are a proud member of VAACT: Volunteer Award for Arts and Culture Toronto. VAACT is a program that strives to recognize volunteers who contribute their time to multiple arts and culture organizations throughout the year in the city of Toronto. The program ends each year with an awards ceremony for VAACT participants, scheduled on International Volunteer Day.
In order to be eligible to attend the VAACT awards ceremony, volunteers must complete the minimum volunteer requirements with three or more events or festivals and complete the Human Rights and Equity training.
In addition to completing the Human Rights and Equity training (please forward your certificate of completion to volunteers@elevate.ca), you must volunteer for at least TWO (2) shifts with Elevate Festival in order for your contribution to count toward the VAACT requirements.
Should you have any further questions about volunteering with us, about the online application and volunteer portal, or would simply like to know more please contact volunteers@elevate.ca
Sign Up