About Elevate Festival 2022
Founded in 2017 as a Canadian non-profit organization, Elevate produced its inaugural tech and innovation festival. In 2022, the reimagined festival united icons and innovators at the intersection of arts and technology. Hosting the festival in Toronto, once again, Elevate was able to shine a light on the tech icons who dream big, the innovative minds who take great risks, and the fearless creatives who envision a future that includes us all.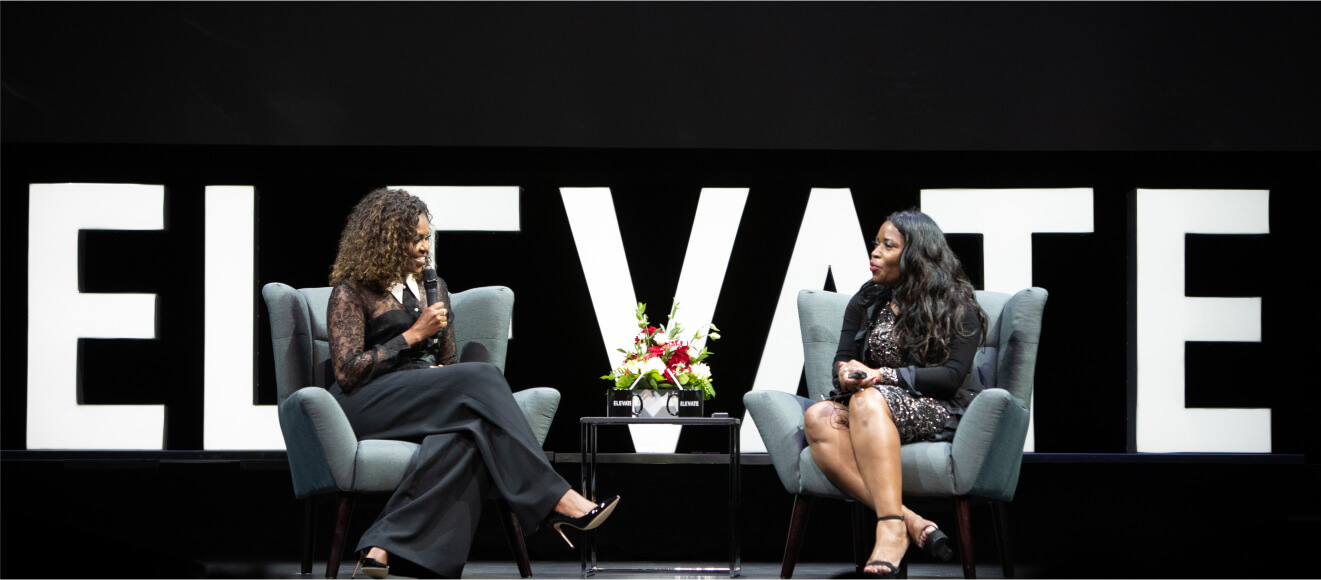 Experience Toronto
Fall in step with Toronto, ranked one of North America's most innovative tech hubs, as you tune in to events and programming you care about at Elevate Festival 2022. From the Design Exchange to Meridian Hall and over to St. Lawrence Centre for Arts, the Festival's small-scale footprint will keep guests connected and engaged in the heart of the city.
Frequently Asked Questions
---
Q: What is Elevate Festival?
A:
In 2022, Elevate Festival was the largest festival in Canada at the intersection of arts + tech. It featured world-class speakers, opportunities to pitch business, a lounge for women in tech, an NFT Art Gallery, the Block Party, featuring emerging musical acts, an open house zone for tech talent, and a space to find your people.
Q: Where did Elevate Festival take place?
A:
Elevate Festival took place across multiple venues in Toronto, Ontario, Canada. This included Meridian Hall, St. Lawrence Centre for Arts, Design Exchange, and a space along Front Street, from Yonge to Church, for the first-ever Block Party.
Q: When did the 2022 festival take place?
A:
The festival ran from September 20 – 22, 2022.
Q: Was Elevate Festival 2022 an all ages event?
A:
Yes, Elevate was an all-ages event. However, all attendees under 18 years of age were required to be accompanied by an adult chaperone or have guardian permission to attend the festival and all related events.
Q: What was the volunteer information?
A:
Elevate thanks all volunteers for supporting and being a part of the 2022 festival! We offered a variety of exciting opportunities for volunteers across our many operations during the festival.
Q: For accessibility requirements, who was the contact?
A:
Elevate is always committed to making its events accessible and welcoming for everyone. Accessibility accommodation(s) will always be made to ensure that our attendees can fully enjoy the festival experience.
Q: Where do I follow Elevate on social media?
Q: How do I reach someone from the Elevate team?
Q: Is there an event schedule available?
Q: Who were the 2022 speakers?
A:
We were proud to welcome some of the world's most iconic, influential, and innovative movers and shakers to the stage. This year's lineup included Venus Williams, Chris Hadfield, Andre De Grasse, Krista Kim, and more! Our full list of speakers can be found here.
Q: What is the Block Party?
A:
In 2022, the Block Party was the festival's most exciting social event! Thousands of guests took to Front St to experience this multi-night event that featured musical performances, entertainment, art, food & drinks, and more. Here was the lineup of award-winning and emerging headliners and performers that hit the stage on those nights.
Q: What is the NFT Art Gallery?
A:
The NFT Art gallery was able to shine a spotlight on underrepresented creators and curators during Elevate Festival. It was free for Elevate Festival passholders for the duration of the festival. The space was then available for private bookings and open to the public till October 15. Visit the NFT Art Gallery page for more information.