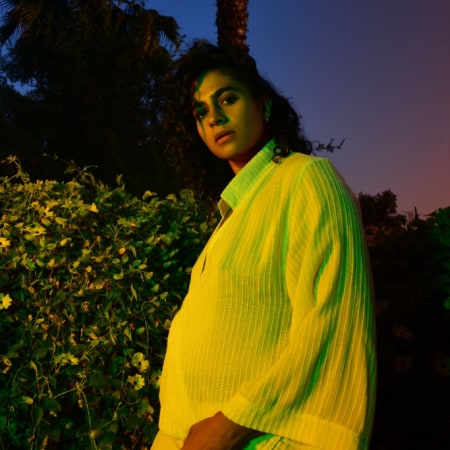 Kiran Gandhi
Artist & Activist
Madame Gandhi
---
Madame Gandhi is an award-winning artist and activist known for her uplifting, percussive electronic music and positive message about gender liberation and personal power. She began producing music in 2015, after her story running the London Marathon free-bleeding to combat menstrual stigma went viral around the world. She has been listed as Forbes 30 Under 30 in Music, and her 2020 TED Talk about conscious music consumption has been viewed over a million times. "Waiting For Me," shot in Mumbai, India, won the Music Video Jury Award at SXSW Film Festival in 2021 and her 100% Organically Sourced x Sound MANA nature sound pack won the New Wav award at the 2021 Splice Awards. Her third studio album, Vibrations, was released in 2022, following the release of her previous albums Voices (2016) and Visions (2019). In June of 2022, Gandhi completed a Masters in Music Science & Technology at Stanford University's CCRMA where she spent time in Antarctica sampling the sounds of glaciers melting to create empathy and awareness around climate change.
The Sounds of Climate Change
What can we achieve when people become a more empathetic and conscious participant in the fight against climate change? A lot. Madame Gandhi will take us through her journey to raise awareness and create empathy around climate change through music. Doing away with the typical fear based discussion, Madame Gandhi will discuss climate futures through a zoomed out, spiritual lens to leave attendees with the knowledge that small conscious changes can make a difference to our future.
Main Stage Day 2 Kickoff and Meditation
Join us at the Main Stage as we celebrate successes, challenge barriers, and cultivate a more sustainable and equitable future for women+ in tech. Women are making contributions that are changing tech and innovation industries worldwide. But for every success story, there are countless statistics reflecting the challenges, bias, and discrimination women continue to face. We're going to talk about it all.