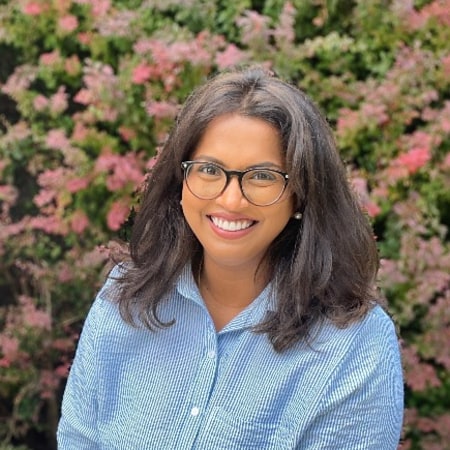 Samanta Krishnapillai
Founder, Managing Director & Editor in Chief
ON CANADA PROJECT INC.
---
Samanta is the founder, managing director and editor-in-chief of the On Canada Project. She is a creative problem solver who actively challenges the status quo. Sam calls herself an accidental entrepreneur as she founded the project while in her Master's at Western University – first as a passion project and then transitioning it into a social enterprise start-up. Samanta strives to create critical and compassionate conversations while building and amplifying community around her.
Sam's passion stems from her lived experience as a first-generation Tamil-Canadian and as someone who intentionally took time to focus on her mental wellbeing in her early 20s which fundamentally changed her perspective of the world. Sam pairs her lived experience with her education in health equity, trauma and violence informed care, diversity and inclusion and system change, and her professional experiences working in advocacy in University student government and community building at nonprofits, to passionately drive change.
Samanta was named one of Best Health Magazines Women of the Year and 2020 Health Hero, Tamil Canadian Centre for Civic Action named her a trailblazer in their 2021 Top 30 under 30 list, was the recipient of the Canadian Tamil Professional Associations Emerging Professional Award in 2021, recipient of Atelier Collective 2021 Rookie of the Year award and was recently named one of Future of Goods Founder's to Watch. Sam challenges herself and the people around her to show up fully and unapologetically as their full selves.
Global Responses, Disaster Relief, and Climate Change Solutions
Join us for a compelling discussion that delves deep into the pressing global issues of climate change, disaster relief, and climate adaptation investments, in the context of humanitarian aid and social justice work. As our world faces increasing environmental and societal challenges, this session will foster a vital conversation about our collective response to these crises. Featuring leaders from the emergency response INGO CORE (Community Organized Relief Effort) and the science-based environmental nonprofit David Suzuki Foundation, our guests will discuss the urgent need for both local and global climate adaptation and mitigation investments and solution-oriented tactics, to offset the adverse impact of natural disasters and build more resilient communities. Be part of this critical conversation as we assess our role as a global society in charting a path towards a more secure, humane and sustainable world for all.